In our Piano Store, we always have variety of gently used pianos for sale in Toronto. Intermediate Level Upright Pianos as well as Professional Level Upright Pianos available for students of all ages and levels, music teachers and piano professionals. Click for details and products.

Baby Grand Pianos and Grand Pianos of various sizes available in Classic Piano Centre showroom,  suitable for all levels of piano playing and for all kinds of living spaces. Gently used pianos for sale in different shapes and sizes available here, at our Toronto Piano Store. Click for details and products.  

Professional Piano Technicians at Classic Piano Centre have extensive experience in  piano tuning, piano restoration, piano regulation, piano voicing, and all piano repairs. Our specialty is used pianos for sale, and we also revive pianos, bring them back to life for many years to come!
Click for details.  
Welcome to Home page of Classic Piano Centre!
Since 1990, Toronto Piano Store "Classic Piano Centre", specializes in used pianos for sale, piano tuning and  complete piano services including piano restoration, piano moving and piano storage. Conveniently located in a heart of North York, our piano showroom has many acoustic upright pianos as well as grand pianos in SHOWROOM CONDITION! Here at Classic Piano Centre you will find the most excellent and diverse selection of gently used pianos for sale at the most competitive prices in Toronto. We also offer a full range of piano services, from basic piano tuning, piano repairs, piano voicing, regulation of piano action to complete piano rebuilding and piano refurbishing. Other piano services include piano rental and  piano appraisal. Our PIANO TUNING & PIANO REPAIRS page has the details.
 If you are looking for gently used pianos for sale in Toronto area, we always have an amazing selection of pre-owned instruments. Classic Piano Centre is conveniently located on the border of North York and Thornhill area. Looking to buy a piano in Richmondhill or Mississauga area – we are located within 30 minutes from most destinations. We specialize in Japanese piano makes such as gently used Yamaha upright pianos and pre-owned Yamaha grand pianos as well as gently used Kawai upright pianos and pre-owned Kawai grand pianos. Our best sellers are:  Yamaha upright piano models U1, U2, U3 and UX along with Kawai upright piano models US50, BL61 and KS3F.  Our piano experts will help you select the right piano for your needs and for your budget.
See our USED PIANOS FOR SALE section for further information.
At the Classic Piano Centre we have highly trained professional piano teachers offering private music lessons in classical piano playing as well as improvisation. See our PIANO LESSONS page for more details information on classes offered at our music centre as well as School on Wheels.
With each gently used piano purchase, we also offer customers complimentary piano tuning, delivery, warranty for parts and labor as well as FREE matching piano bench.
CALL today at  (416) 667-0000 and visit our store!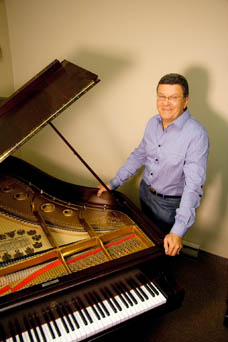 Peter Lozinsky
– founder and owner
of
Classic Piano Centre
near by 110 years old
restored Steinway Grand Piano