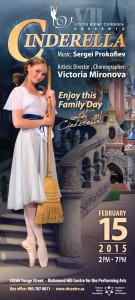 CINDERELLA BALLET this FAMILY DAY LONG WEEKEND 2015 IN TORONTO
Victoria Ballet Company Presents Cinderella
With music by: Sergei Prokofiev
Choreography: Victoria Mironova
Libretto: Victoria Mironova after the fairy tale by Charles Perrault
Who can resist the fairy tale of Cinderella? This timeless classic perfect for all age groups, that our brothers, sisters, parents, and even grandparents grew up with. Cinderella was shown in many different genres: movies, musicales, live show productions, etc. Action or animated, the story of Cinderella is a great opportunity for some quality family time.
How about seeing it live this FAMILY DAY WEEKEND, on the stage of Richmond Hill Centre for The Performing Arts, with colorful costumes and mesmerizing performances? Victoria Ballet Company has produced the classic Cinderella Ballet – first staged at the Bolshoi Theater in Moscow right after World War II. Why right after WWII? People wanted to see a performance that is encouraging, cheerful, and lighthearted – something that can inspire and bring joy to everyone.
The Cinderella ballet is, of course, based on the folk tale of Cinderella with roots in countries all over the world, including China, Egypt, Germany, Russia and many others. What other fairy tale can better suite our multicultural society? The composer for this particular rendition of Cinderella was Sergey Prokofiev; his music for this performance can only be named a gift to humanity. Yet, it is also one of the most challenging musical pieces to choreograph – and Victoria Mironova, the artistic director of Victoria Ballet Company does an outstanding job of it.
Whether you're a ballet aficionado or haven't seen a performance yet, you will enjoy this production. Victoria Ballet Company's performances are known for the immediate emotional connection made with the audience, it is easy to enjoy by all.
We hope to see you all at the show!
Richmond Hill Centre for the Performing Arts 
10268 Yonge St., Richmond Hill
Tel: 905-787-8811