On January 27th of 2015, Mozart would have been 259 years young!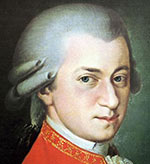 Mozart Wolfgang Amadeus Mozart ( 1756 – 1791)There are many interesting facts about Mozart.One of the greatest composers of the classical period.

He studied and admired the works of Bach, Handel and Haydn
By the age of 6 he was writing his own compositions.
He wrote his first opera, Mitridate Re di Ponto, in 1770 when he was only 14 years old.
He composed his first great mass, aged 12 – Misa Brevis in G
While visiting the Vatican, Mozart heard Gregorio Allegri's Miserere performed in the Sistine Chapel. He was able to write out the entire score from memory. Previously, the music had not been reproduced outside the Vatican.
Haydn was full of praise for the young Mozart, telling his father there was no other man like him.
In 1784 he joined the Freemasons – an organisation dedicated to mutual friendship.
In April 1787, Beethoven then aged 16, arrived in Vienna to get two weeks worth of musical lessons from Mozart.
At the age of 17, he received a prestigious appointment to play in the court of Vienna, Austria.
He married Constanze Weber in 1782. They had six children, but only two survived infancy.
Mozart earned a substantial sum from his successful operas, but he was extravagant in spending and often ended up in financial difficulties.
He was a Roman Catholic and some of his greatest works were religious in nature.
He died of kidney failure and was buried in a common grave with little fanfare, though that was common for the time.
Greatest Works of Mozart
The Magic Flute, (Opera)
Don Giovanni. (opera)
Marriage of Figaro (opera)
Concertos
Piano Concerto (K. 595 in B-flat)
Piano Concerto No.21 in C, K.467
Clarinet Concerto K. 622,
Symphonies
Symphony No.39 in E flat, K.543
Choral Works
Ave verum corpus K. 618,
Requiem K. 626.